Redskins' Bench Donovan McNabb In Loss To Lions
Added on Oct 31, 2010 by Jason Kearney in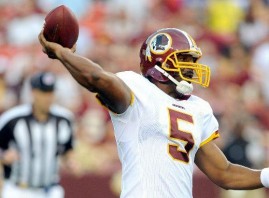 While it may be premature to say a full-on quarterback controversy is brewing in Washington, head coach Mike Shanahan did sound a little testy responding to media questions about his decision to bench Donovan McNabb late in the Redskins' 37-25 loss to the Detroit Lions.  McNabb was 17-of-30 for 210 yards, one touchdown, and one interception before being replaced by Rex Grossman.  The Skins were down by a TD at the time of the switch Grossman fumbled on his first pass attempt and it was returned for a touchdown to put the game away.
Redskins' coach Mike Shanahan didn't give much reasoning behind his thought process for making the switch.  The apparent reason was a number of '3 and out' series by the Washington offense, but Shanahan went to the old reliable excuse for making any personnel change:
"I thought (Grossman) gave us the best chance to win."
He went on to say that he thought Grossman was more conversant with the team's 'two minute offense' than McNabb, though one Washington sports media type noted on his Twitter account that Grossman had never run the offense in game conditions.  Later, Redskins' VP of Public Relations Tony Wiley tried to elaborate and emphasize that McNabb is still the starting quarterback:
"He felt that with one minute left, [Rex Grossman] gave us the best chance to win. He was more familiar with the two-minute terminology and offense. McNabb is still the starting quarterback."
McNabb was clearly agitated by the decision but said the right things to the media after the game:
"He makes the decisions. I just continue to go with it and just cheer for my team."
McNabb went on to say that he won't change anything about his approach:
"When you get benched, you get benched. Just have to learn from it and move on."

"I continue to focus as if I'm the starter," he added. "He said I'm still the starter."
The Redskins have a bye week ahead before a return date against the Philadelphia Eagles on Monday, November 15th.  Assuming there's no behind the scenes friction between McNabb and Shanahan (which is doubtful) everyone concerned will likely chalk this up to an effort to light a fire under the team that didn't quite work.  Rex Grossman is a serviceable backup and McNabb has his liabilities but it doesn't seem possible to make a compelling case that Grossman is a better starting quarterback in the longterm.
No Comments