Saints Without Top Three Backs for Sunday's Game
Added on Oct 03, 2010 by Eric Galko in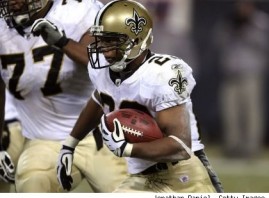 To start the season, fresh out of training camp, the Saints felt very secure about their running back situation.
Pierre Thomas was to be their workhorse, and Reggie Bush was set to be the, well, "Reggie Bush" versatile position. And behind both of them was the relatively unknown yet impressive young back Lyndell Hamilton.
But as they match-up with the Carolina Panthers tomorrow, they'll be without all three.
The Saints will start somewhat recently signed Ladell Betts, who played well over his career with the Redskins and was a solid spot starter. Though long term they most definitely will need Pierre Thomas back if they hope to make another Super Bowl run, they have to deal with Reggie Bush and Hamilton out for a very extended period of time.
And they'll have to fill those voids with rookie Chris Ivory, Ladell Betts, and recently activated 3rd stringer DeShawn Wynn to be fill out their running back depth chart.
So while the passing game will be a determining factor in winning or losing in almost every game for the Saints, without a stable running game, Brees and the rest of the talent in the passing game will struggle to keep defenses honest.
No Comments