Santonio Holmes Era Will Begin This Weekend With the Jets
Added on Oct 04, 2010 by Eric Galko in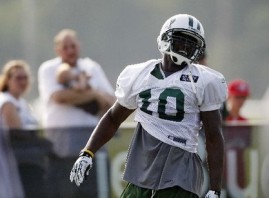 One of the more forgotten off-season acquisitions has yet to make a name for himself with his new team.
Santonio Holmes, Super Bowl hero for the Steelers two years ago, has been suspended the first four games of the season, but now he's set to make his return to the NFL and the New York Jets.
Mark Sanchez has improved week to week for this team, with Jericho Cotchery, Braylon Edwards, and Dustin Keller his top receiving threats, and LT dominating on the ground.
But with Santonio Holmes in the mix, he'll add a whole new dimension. Holmes is maybe the most talented and consistent receiver on the depth chart.
Look for Holmes to hit the ground running for this Jets team. They have the best defense in the NFL already, and Sanchez is leading a consistently improving offense. However, in his first game back as well as the rest of the season, look for the Jets to use Holmes as much as possible, and he'll be pushing 80-100 yards and a score each week.
No Comments