Smith to Crabtree the Next Montana to Rice? Not Quite
Added on Oct 01, 2010 by Eric Galko in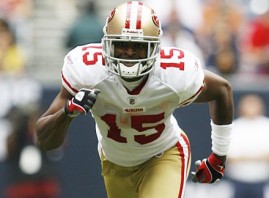 The 49ers offense has been among the worst in the NFL each week thus far, and even after the change at offensive coordinator for Mike Singletary's team, it doesn't look like it's going to move to a rapid improvement.
Singletary is on the hot seat, and if he can't fix his offense soon, he could be out of his first (and maybe only) chance at being an NFL head coach.
But what's the real problem? Oddly enough, it's the connection between the starting quarterback and feature receiver.
When Michael Crabtree fell to #10 in the draft, 49ers brass and 49er fans alike were both shocked and excited. He was finally going to be the star receiver to fill the shoes of Terrell Owens and before him, the infamous Jerry Rice.
However, in what was supposed to be the 49ers best chance to win the NFC West in some time, the connection between the pre-season hyped Alex Smith and the star receiver Michael Crabtree has been more of a hindrance than a connection to watch.
When Alex Smith targets Crabtree this season thus far, 19 attempts total, he is 6-19 for 81 yards.
And four interceptions.
New offensive coordinator Mike Johnson has already said he plans to "fix" Crabtree and the lack of communication on the field between Smith and Crabtree. And if 49ers still hope to salvage the season (they realistically could still win the division), then the #1 quarterback to #1 receiver needs to benefit the offense, not cause extra headaches.
No Comments