Some Big Names Get Snubbed For Pro Bowl
Added on Dec 29, 2010 by Scott in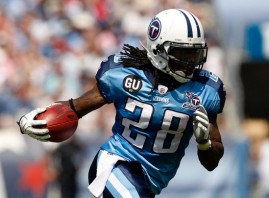 The 2010 Pro Bowl rosters were announced yesterday. I'm not going to list them or pour over Andre Johnson's or Adrian Peterson's stats, but just like every other year there were a handful of surprising omissions to debate. Now, any football fan worth his or her salt knows the Pro Bowl is a giant popularity contest and not at all indicative of the league's best players. That being said, it's still fun to wring our hands and scratch our heads over the big names who managed to be left out of the conversation. Here are five that stand out.
5) CB Tramon Williams (Packers) – His teammate Charles Woodson got the nod because he's Charles Woodson. I love Woodson, but Williams has been better in 2010. He's tallied 54 tackles, 19 passes defended, six interceptions and one sack. Sadly, Williams may have to wait until Woodson retires before he gets his deserved recognition.
4) RB Peyton Hillis (Browns) – The AFC running back picture was a crowded one for sure, but Hillis carried a poor Browns team for most of the season. 1164 yards, 11 touchdowns on the ground; 60 receptions, 474 yards and two scores through the air. Those are impressive numbers for a 6'1″ 240 lb back who began training camp third on the depth chart.
3) QB Aaron Rodgers (Packers) – Vick and Brees were locks. Matt Ryan was solid, but he made it because the Falcons have the best record in the NFC. Rodgers has a higher QB rating and completion percentage, more yards passing and touchdowns, and has battled injuries to himself and his offensive skill players. He should've made the final cut.
2) LB Lawrence Timmons (Steelers) – One of these years, Timmons will get an invite, but his 126 tackles, three sacks and two interceptions was more than enough to earn a spot in 2010. Something tells me he's getting overshadowed by James Harrison and Troy Polamalu, which is understandable, but still unfortunate.
1) RB Chris Johnson (Titans) – I am shocked but pleased that CJ2K was left off the AFC squad. It seemed like a given that his 2000-plus yard 2009 would grant him a free pass until 2012. Nice to see the Chiefs Jamaal Charles get the love instead. History tells us the year after rushing for 2000 yards will result in a letdown and history proved to be right.
No Comments