Super Bowl Betting: Pats, Niners Favored
Added on Dec 19, 2012 by Jack Thurman in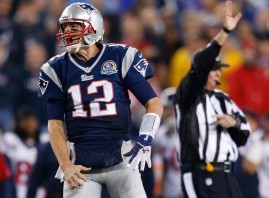 The NFL still has a couple of regular season games and the playoffs to get to but it's never too early to bet on Super Bowl futures. Bookmakers have installed the New England Patriots and the San Francisco 49ers as virtual 'co favorites' on the heels of the Niners' thrilling road victory over the Pats last Sunday. The Patriots are a +450 choice to win the big game in New Orleans while the Niners are priced at +470 to hoist the Vince Lombardi Trophy.
Several presumptive favorites have come and gone over the course of the NFL regular season leaving the 49ers and Patriots as the most impressive teams and thus the most likely to claim the Super Bowl crown. The Patriots have what horse players call 'back class'–they've won the title before and have arguably the best coach/quarterback combination in professional football. The rap on the Patriots is their defense-New England ranks #27 in overall scoring defense. The counterargument to that is that their #1 ranked offense is good enough to compensate for that perceived liability.
Defense isn't the Niners' problem–they're ranked #1 in scoring defense and #2 in scoring defense. San Francisco is just now coming into their own as a team and their biggest question is at the quarterback position where rookie Colin Kaepernick has shown flashes of brilliance and has wrested the starting job away from Alex Smith. The Niners are well coached and have a solid running game and some would suggest are a more complete team than New England. They'll face a big test this weekend as they travel to the 'Jet City' to take on the Seattle Seahawks who are known for having the toughest home field advantage in the league.
The Denver Broncos with rejuvenated Peyton Manning are the #3 betting choice at +520. Denver hasn't lost since early October and is currently riding a 9 game SU winning streak during which they've gone 7-1-1 against the spread. The big question about the Broncos is their quality of opposition–most of their recent run has been against non playoff teams. Also in the mix are the Houston Texans (+620) who were once considered 'the team to beat' but have shown some liabilities of late as they've failed to put away substandard opponents. The Atlanta Falcons are priced at +750 with the Green Bay Packers at +775.
No Comments