Ten NFL Preseason Stories That Matter
Added on Aug 16, 2010 by Scott in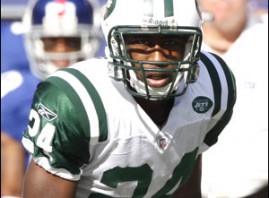 It's the middle of August, which means NFL training camps are in full swing. One week of preseason is already in the books and in less than a month the games that count will start being played. Just like every other NFL summer, there are plenty of stories circulating throughout the practice fields and offices of all 32 teams. Some are important, others not so much. Here are ten that matter, in no particular order.
10. Brett Favre's ankle – Let's just get this one out of the way. The prima donna signal caller from Mississippi has himself a bum ankle. Will it prevent him from playing in 2010? It's highly unlikely. However, on the off chance Favre can't take snaps for the Vikings, the purple and gold will go from top contender to also-ran. The prospect of Tarvaris Jackson or Sage Rosenfels under center doesn't bode well for a Super Bowl run.
9. The Bills backfield – Penciled in starting tailback Fred Jackson is out 4 to 6 weeks with a busted hand. Former starter Marshawn Lynch will miss at least a month with a sprained ankle. This leaves undersized rookie CJ Spiller as Buffalo's top ball carrier. Great news for Spiller fantasy owners, but horrible news for Bills fans. They went from having one of the deepest backfields in the league to having perhaps the thinnest.
8. The Giants offensive line is a mess – The strength of the Giants over the last few years has been its offensive line, which has managed to maintain the same starting five for all but a few games since 2007. At present, left guard Rich Seubert and Pro Bowl center Shaun O'Hara are both nursing hurts. Big Blue was decimated by injuries in 2009 and can't endure many more setbacks before September.
7. Patriots lose Ty Warren for the season – The Pats most experienced and best defensive end will miss the 2010 season with a bad hip. A once stalwart defense has been beset by age, retirement and injury. Bill Belichick better hope Tom Brady can regain his old form because his trademark 3-4 could be headed for trouble.
6. Texans rookie Ben Tate has ankle surgery – Houston's running back situation has been cloudy for twelve months. Steve Slaton's sophomore slump opened the door for second-year back Arian Foster and rookie Ben Tate. Foster is currently listed as the number one back, but expectations for Tate have been high. That is until he sustained a severe ankle sprain in the preseason opener which required surgery and could sideline him into the regular season.
5. The Vincent Jackson/Chargers rocky marriage – Will he or won't he sign his restricted tender? At this point, nobody knows, but according to some reports, the Chargers have no intention of awarding Jackson a long-term deal whether he shows up for camp or not. They could end up trading him or he might rejoin the team after he serves his three-game suspension. Whatever happens, an ugly end looms on the horizon.
4. Down goes Dumervil – Besides Champ Bailey, the one player the Broncos did not want to see go down was pass rusher Elvis Dumervil. Unfortunately, a torn pectoral did that very thing during the first week of camp. He might miss the season or return in November. Regardless, the Broncos defense will miss Dumervil while he's gone.
3. Kevin Kolb in command – It's early, but new Eagles quarterback Kevin Kolb has looked razor sharp. With a bounty of offensive talent surrounding him, he could make a much smoother transition than first expected. The real test will begin on September 12 versus the Packers, but so far, so good. 
2. Revis island – The best corner in the game is playing hardball with Jets management. He wants mega bucks and is apparently prepared to sit out 2010 to get it. Meanwhile, GM Mike Tannenbaum is using HBO's Hard Knocks to paint Revis and his agents as villains. My best guess is this issue will be resolved prior to the regular season. The Jets are talkin' Super Bowl. In order to get there they'll need Revis on the field.
1. The Cincinnati Zoo – Oh, those Bengals. Will they ever learn? Adding Terrell Owens to a team of self-promoting malcontents and habitual criminals that already includes Chad Ochocinco, Antonio Bryant, Matt Jones, Cedric Benson, Tank Johnson and Pacman Jones makes perfect sense. Marvin Lewis loves third, fourth and fifth chances. Too bad he's running a professional football team and not a reform school.
No Comments