Ten Things We Learned On The NFL's Final Sunday
Added on Jan 03, 2011 by Scott in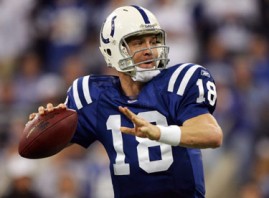 The 2010 NFL regular season is in the books. All playoffs spots have been secured. The journey to crown the next Super Bowl Champions begins on Saturday. The Giants and Jaguars were sent packing, while the Colts and Packers punched their tickets. Arian Foster seized the rushing title. Josh Freeman ended the season with more touchdown passes than Matt Schaub. Rookie wide receiver Mike Williams ended up with twice as many touchdowns as Reggie Wayne. There was much to be learned on the final Sunday. Ten things to be exact.
10. The road in the NFC goes through Atlanta – The Falcons took care of business and disposed of the hapless Panthers to lock in the #1 seed in the NFC. They will be tough to beat at home. Matt Ryan has lost only twice inside the Georgia Dome. One of those losses came last week against the Saints. If things fall right, it will be Saints at Falcons in the Divisional playoff round for the rubber match. Get your popcorn ready.
9. The AFC West is screwed up – Guess which AFC West team went undefeated in division play? Raiders. Meanwhile, the Chiefs, who won the division, went 2-4. KC still hasn't defeated a team with a winning record. The 12-4 Ravens come to town on Sunday. Good luck, Todd Haley.
8. Rob Gronkowski led the Patriots in touchdown catches – Say what? That's right football fans, rookie tight end Rob Gronkowski snagged ten scores from Tom Brady in 2010, which was tops on the team. Fellow rookie tight end Aaron Hernandez caught six touchdowns. Guess they didn't miss Randy Moss, eh?
7. The Bucs never quit – The NFC should feel relieved Raheem Morris's young Bucs didn't qualify for the postseason. The trio of Josh Freeman, LeGarrette Blount and Mike Williams were dynamic in December. They finished 10-6 and will be a trendy pick in 2011 to make some noise.
6. Rex Ryan will get his wish – A rematch with Peyton Manning's Colts. Of all the Wild-Card matchups, this is the one I'm looking forward to watching. Can the Jets defense flummox Manning? Is the Colts defense healthy enough to shut down Mark Sanchez? Will Indy be able to muster a rush attack? Does LaDainian Tomlinson have anything left in the tank? Should be a doozy.
5. Ryan Mathews finally woke up – The much heralded rookie running back saved his only great performance for after the Bolts were eliminated from the playoffs. Mathews raced for 120 yards and three scores in a meaningless victory over the punchless Broncos. Better late than never, right?
4. The Packers are rolling – Winners of two straight, Green Bay has been dubbed the team nobody wants to face. Their opponent on Sunday, the Eagles, dropped their last two games and lost to the Pack way back in Week 1. Does Michael Vick have any magic left in his legs and left arm, or will Aaron Rodgers get that elusive first playoff W?
3. Arian Foster is about to get paid – He began the season running for 231 yards and three scores and ended it rumbling for 180 yards and two touchdowns. Over 2200 total yards and 18 trips for six equals a league rushing title, a likely AFC Offensive Player of the Year Award and a future contract worth millions.
2. Big Blue is feeling blue, again – By all accounts, Giants head coach Tom Coughlin will be retained. That's probably the correct call, but since winning the Lombardi Trophy in 2007, the G-Men have one playoff appearance and zero wins. Just sayin'.
1. We have our first 7-9 Division champions – Congratulations, Seattle Seahawks. I'd classify this development as both sad and funny. Sad in that such an awful team gets to participate in the postseason. Funny in that the Bucs and Giants each crushed Seattle by a combined score of 79-22, but will be sitting home with ten wins.
No Comments