Ten Things We Learned On The NFL's Twelfth Sunday
Added on Nov 29, 2010 by Scott in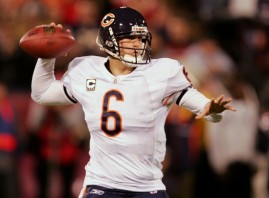 Close games were the theme yesterday in the NFL. Eight games were decided by a touchdown or less, including key matchups in Chicago, Buffalo and Atlanta. The Texans pitched a shutout, while the Chiefs orchestrated a blowout. Chris Johnson rushed for a career worst five yards as the Titans lost their fourth straight. Jay Cutler tied a career best with four touchdown passes as the Bears won their fourth straight. There was much to be learned on the twelfth Sunday of the 2010 season. Ten things to be exact.
10. The Falcons are flying high – Atlanta continued their surprising season by knocking off the visiting Packers on a last-second field goal. Matt Ryan was his usual cool, consistent self and Michael Turner roughed up a stout Green Bay defense. At 9-2, the Dirty Birds own the best record in the NFC, are undefeated at home and appear as equipped as any team to make a serious run at the Super Bowl.
9. The Steelers are an enigma – They get flattened by the Pats, turn around and smash the Raiders, then are taken to overtime by the Bills. Who the hell are these Steelers, anyway? They seem to be searching for an identity on offense. The run game is still the staple, but without the big plays downfield to Mike Wallace, they struggle to score. A huge division battle with the Ravens is up next. Methinks the "good" Steelers will show up for that one.
8. Peyton Hillis is unstoppable – Watching Hillis run is similar to a monster truck crushing a row of cars. The bruising Browns back has scored a touchdown in every game except one, rushed for 905 yards and caught 46 passes. Cleveland is a below average team with him, but without him they would be awful. They don't give MVP awards to guys on losing teams, but if anyone is deserving it would be Hillis.
7. The Titans are a disaster – Four straight losses. Third-string quarterback. Chris Johnson's worst day as a professional. Getting blanked by the terrible Texans defense. It doesn't get much more embarrassing for Jeff Fisher's gang. A month ago they looked like a legit contender. Now they look like a team in complete disarray. Can you say changes in the offseason?
6. Brad Childress won't be missed – It's not as if the Vikings were overly impressive in disposing of the painfully dull Redskins, but they sure did play with passion. Interim coach Leslie Frazier could be seen smiling and offering encouragement on several occasions. The last time ex-coach Brad Childress cracked a grin was January. To say that Chilly lost his team would be a massive understatement.
5. The old Raiders are back – In two games since the bye week, the silver and black have allowed 68 points and Darren McFadden has rushed 18 times for 16 yards. A mess at quarterback combined with a suddenly porous defense is a recipe for another season without playoffs. It doesn't get any easier with games at San Diego and Jacksonville on the horizon.
4. Dwayne Bowe is a beast – Bowe has 14 touchdowns on 58 receptions. That means roughly one out of every four balls he catches goes for six. He's found the end zone multiple times in five of his last seven starts and is on pace for 20 scores. Not bad for a guy who entered 2010 with 16 career touchdowns.
3. The Bears are quietly making a move – Chicago has made a living this year winning ugly. After pushing around a solid Eagles team for four quarters, it's probably time to take the monsters of the midway serious. Jay Cutler is taking care of the ball, Matt Forte is running hard and Julius Peppers is terrorizing opposing signal callers. They ain't pretty, but style points don't count in football.
2. Josh McDaniels is not long for Denver – Since starting 6-0 in 2009, Broncos head coach Josh McDaniels has a 5-16 record. And he just got fined for failing to report an assistant who videotaped the 49ers walk-through practice in London a few weeks back. Basically, he's in way over his head and probably won't be retained in 2011. Just one more Bill Belichick disciple to flop as a head coach.
1. The Colts are fading fast – The Super Bowl loser curse seems to be afflicting the Colts. They've been decimated by injuries, dropped three of their last four games and Peyton Manning is throwing interceptions in big games. A brutal schedule isn't doing them any favors either. Unless they get healthy in a hurry, Indy could miss the postseason for the first time since 2001.
No Comments