The Best Preseason NFL Pointspread Teams
Added on Aug 23, 2010 by Jack Thurman in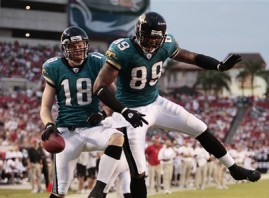 Yesterday, we looked at the NFL teams that have been the worst against the pointspread in the preseason, and today we'll look at the ones that have excelled.  As we noted yesterday, handicapping NFL preseason games is a completely different challenge from handicapping regular season games. Even the squarest 'square' knows that Seattle has been a good ATS pointspread team before this season (they'd won 10 straight ATS before dropping both of their 2010 preseason games to the number) and that Indianapolis doesn't show up in exhibition games (0-2 SU and ATS in 2010).
One thing that is clear from looking at this data is that some teams perform better in the role of an underdog than as a favorite and vice versa.  Some teams are bad or good in both roles, but most have a clear 'preference' for one or the other.  Here's a valuable preseason handicapping lesson that doesn't even require drilling deeper into the data—heading into the 2010 NFL preseason 21 of the 30 teams had a pointspread record below .500 as a favorite.  Only 9 teams had a losing record as a preseason underdog.  That's also why the 'best' teams as favorites have less impressive records than their underdog counterparts.  In fact, we left several teams off this list that were at least nine games above .500 as an underdog.
There's more to preseason success or failure—be it straight up or against the spread—than the name on the jersey.  Certain coaches care more about preseason than others, of course, but that mentality can also extend to general managers, owners and even fans.  In other words, don't go betting these situations blindly (for that matter, don't do anything in sports betting blindly based on a single trend) but these records do provide some interesting insights into how teams have approached exhibition play.  These records are against the spread since 1990 and are complete through games of Saturday, August 20, and I've added comments with each giving my opinion of how the team will fare in this role going forward.  As was the case yesterday, I've also been somewhat selective in my approach—for example, New Orleans has been a great preseason pointspread underdog (29-18 ATS) but as Superbowl champions the team's approach to preseason is completely different.  Furthermore, they  won't be underdogs very often. As a result, I've eliminated them from this list:
THE BEST PRESEASON POINTSPREAD FAVORITES:
–DENVER BRONCOS:  The bloom may be off the rose for the Broncos as a preseason favorite under Josh McDaniels, but since 1990 they're 32-25 ATS.  Since McDaniels took the reins of the team, they're 0-2 including a home loss to the Detroit Lions this week.  Most of the Broncos pre-season success in the timeframe we're discussing likely left town with noted hardass Mike Shanahan who coached the team from 1992 to 2008.  In fact, assuming McDaniels keeps his gig for a few years we'll go so far as to suggest that the Broncos could be starting a new trend as a preseason favorite go against.
–ATLANTA FALCONS:  The Falcons have a solid 25-18 ATS record as a preseason favorite including a 1-1 mark this year, beating Kansas City and losing to New England.  For the life of me, however, I can't figure out any sort of unifying theme during the timeframe we're dealing with to explain why Atlanta has done better than the NFL norm laying points in the preseason.  Since 1990, the Falcons have had eight different head coaches so there's not any sort of philosophy that would make preseason games a priority.  This could be a good example of why betting trends blindly is a bad idea—sometimes they're just sheer coincidence.
–SAN DIEGO CHARGERS:  The Chargers are 22-16 ATS in the preseason since 1990 with a 1-1 record this year.  Like the Falcons, the Chargers have had a lot of different coaches in this time frame (7 since 1990) so there's no long standing emphasis on preseason play to explain this result.  The Chargers could be a beneficiary of their geographic location, which necessitates a long flight from most NFL cities.  Norv Turner is 5-5 ATS in NFL preseason games.  At least during the Norv Turner/Marty Schottenheimer eras the Chargers have been a professionally run team so I'm not going to call their ATS success an out and out coincidence like Atlanta's but at the same time I'm not going to be betting the Chargers blindly as favorites.
THE BEST PRESEASON POINTSPREAD UNDERDOGS:
–NEW YORK JETS:   The Jets are 35-18 ATS as preseason underdogs since 1990, including 3-0 ATS under Rex Ryan.  They're a better team now, of course, but for years they were one of the NFL sides that didn't do well in the regular season and took advantage of the preseason to win some games.  For a long time, one of the most 'sure things' in sports was that the Jets would beat the Giants in their annual preseason backyard battle.  They were invariably underdogs here, so that's also a reason for their success in this role.  It'll be interesting to see how Ryan and the Jets perform now that they have actual expectations of success to live up to.  They won't be an underdog often in the near term, but under Ryan they'll be a good bet when they are.
–TAMPA BAY BUCCANEERS:   For a good chunk of the past 20 years, the Bucs were a solid team with good coaching (notably Tony Dungy and Jon Gruden) who took it seriously any time they lined up to play football.  That's a big reason why they're 24-14 ATS as a preseason underdog. Under Raheem Morris the team is rebuilding, but they should continue to fare well in the role.  Morris is still trying to build a 'winning tradition', as well as develop an identity with a roster full of  young players.  That's a good formula for a strong effort in exhibition games.
–JACKSONVILLE JAGUARS:  The Jags have only been in the NFL since 1995, but they've compiled an 18-7 ATS record as preseason underdogs in that stretch.  This one is pretty easy to explain, as the team has had only two coaches in their history—Tom Coughlin, one of the most infamous hardasses in NFL history, and Jack Del Rio, who is cut from the same no nonsense cloth.  Under Del Rio, the Jaguars have also shown a tendency to play a more wide open offensive style than in the regular season.  The team's strong underdog performance as a dog should continue as long as Del Rio is at the helm.  Jacksonville is 5-0-1 ATS as a preseason underdog since 2006.
No Comments