Trevor Pryce Bails on Ravens, Goes to Rex
Added on Sep 30, 2010 by Eric Galko in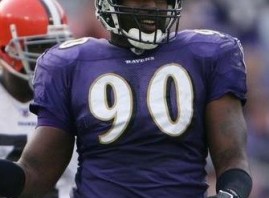 Trevor Pryce made it very clear when Rex Ryan emerged as a head coaching candidate that if given the opportunity to play for him, he gladly would.
I guess the Ravens called his bluff, because he was released for the week, with pay, to make room for another player, and Pryce made good on his offer and signed with the Jets and Rex Ryan.
The Ravens will still owe Pryce 2 million dollars in base salary this year even though he won't be on the team for the remainder of the season. Therefore, he'll be double dipping, as in getting paid from the Ravens and now the Jets and his new one year deal.
Pryce will likely come in as a rotational defensive end for the already impressive 3-4 defense of Rex Ryan. And the best way to stay on top as a defense is to stay healthy and keep talent.
So adding a veteran who still has enough left in the tank to be productive is a huge win for the Jets, and a dissapointing and ill-planned lost for the Ravens.
No Comments