Why Tom Brady Will Win The NFL MVP
Added on Dec 08, 2010 by Scott in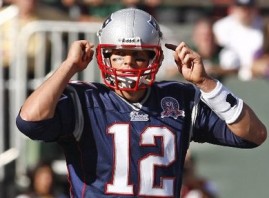 Believe it or not, Patriots quarterback Tom Brady has won the NFL MVP award only once. That was after his record-breaking 2007 campaign in which he tossed for 4806 yards and 50 touchdowns. He's won three Super Bowls, a pair of Super Bowl MVPs, been named to five Pro Bowls, was the Comeback Player of the Year for 2009 and is a member of the 2000s All-Decade Team. But only one league MVP. Well, after dismantling the Jets on Monday night to the tune of 326 yards and four scores, it's all but a lock that Brady will capture his second MVP at season's end.
Now, you might be thinking Brady is the obvious choice and you'd be correct. Ya see, when it comes to the MVP, obvious always wins out. That's why Peyton Manning has won four and Brett Favre three. It's easy to make a case for other worthy contenders every year, but the clear-cut favorite usually walks away with the hardware.
Philip Rivers, Aaron Rodgers, Maurice Jones-Drew, Matt Ryan and Michael Vick are all in the conversation, but none is a serious threat to stealing Brady's trophy. Rivers plays on a .500 team, Rodgers has been good, not great, Jones-Drew plays the wrong position, Ryan doesn't have the numbers and Vick is too controversial. That leaves Tom Brady.
And it's not as if he isn't deserving. Two games into the season third-down back Kevin Faulk tore his ACL. Two weeks later Randy Moss was traded to Minnesota. After a deal that brought Deion Branch back to the Patriots, Brady was left with an arsenal that included a post-ACL-tear Wes Welker, an unproven second-year receiver in Brandon Tate, a pair of rookie tight ends and an undersized scatback named Danny Woodhead, who was cut by the Jets in the preseason. Not exactly a murderer's row of playmakers.
Like always, Brady has simply made due. He hasn't thrown an interception since Week 6 and has thrown 17 touchdowns in his last seven starts. He's on pace to toss the second-most TD passes of his career and the fewest interceptions since 2007, when he had eight. He's also led his team to the best record in the NFL (tied with Atlanta) through the first twelve games.
He still has difficult matchups left — at Chicago on Sunday and home to Green Bay the following week. Barring a couple disastrous performances, he should remain the leading candidate, especially if he outduels Rodgers head-to-head. Love him or hate him, the guy has taken a young team under his wing and done what true leaders do: he's led by example and convinced them they are the team to beat. If that's not MVP material, I'm not sure what is.
No Comments