US Open Tennis Betting Free Picks: The Men
Added on Aug 25, 2010 by Jack Thurman in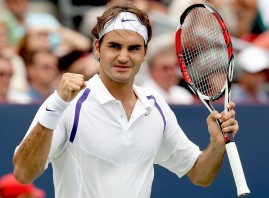 We handicapped the Women's US Open draw yesterday, and now we'll look at the Men's side of the tournament.  The Men's competition simply won't be as wide open as their distaff counterparts—the 'pecking order' at the top of the Men's tennis standings is much more rigidly set and we're not expecting a huge surprise with the winner.  Still, there are a couple of decent value opportunities that are worth a look.
One thing that is certain is that there won't be a repeat winner in 2010.  2009 US Open champion Juan Martin del Potro was forced to withdraw from the tournament due to a wrist injury.  Only three players have single digit prices to win the 2010 event.  Rafael Nadal of Spain is the world's #1 ranked player and is the top seed at the US Open, but he's only the #2 betting choice at +340.  Second seed Roger Federer has won the US Open four times and is favored to win a fifth.  He's a +245 favorite to take the title.  Nadal is only considered a slight favorite over the third betting favorite, Great Britain's Andy Murray.  Murray is the #4 seed in the Open but is considered a strong contender for the title due to his success on hard court surfaces.  Murray is priced at +350. The #3 seed, Novak Djokovic is the fourth betting favorite but is priced at +1600.  Every other competitor is priced at 20/1 or higher.
We'll pass on Rafael Nadal, who is strongest on clay courts.  He's never won the US Open and while he's certainly got the skills, we'll look at the players who have a better track record on the hard court surface of the US Tennis Center at Flushing Meadows.  This leaves Federer and Murray as the most likely winners and as much as we'd love to find a higher priced player that offers better value it's hard to envision a scenario in which one of these two men doesn't win.
Andy Murray has a rap that he's unable to win 'the big one'.  Obviously he's a top notch competitor as evidenced by his #4 world ranking.  He's only 23 years old, so he's got plenty of time to add some Grand Slam trophies to his collection but as of yet he's been unable to win tennis' biggest events.  He reached the finals of the Australian Open earlier this year and the finals of this event in 2008.  Murray does enter this year's US Open in top form—at a recent event in Toronto he beat both Nadal and Federer in straight sets.  Still, at +350 we're not getting a lot of value on a player who has yet to demonstrate an ability to win Grand Slam events.
Which leaves us with Roger Federer.  The big question about Federer is his age—he's 29 which is sort of 'long in the tooth' in the youth dominated world of professional tennis.  There have been many comparisons to Pete Sampras, who was unable to win a Grand Slam event past his 30th birthday.  Still, his performance at the US Open has been downright dominant—he won the event in five straight years through 2008, and was the runner up to del Potro in 2009.  We're not convinced that he's the least bit 'over the hill' and you simply can't ignore his track record in this competition.
If you're looking to back a longshot you could do worse than a wager on the top American players.  Andy Roddick is the #9 player in the world and available at +2800.  He's 28 years old, so he's not quite 'over the hill' either and a former #1 ranked player in the World.  He won the US Open in 2003 but that is his only career Grand Slam title.  Mardy Fish is an even bigger 'dark horse'—he's the #21 ranked player in the World and has been playing well this year.  He's never won a Grand Slam tournament, however, but at +5000 might be worth a shot.  The tennis media has tabbed a couple of younger players as potential breakout stars of the 2010 US Open– Ernests Gulbis and Marin Cilic.  Cilic has a reputation for inconsistent play, so of the two we'd be more interested in a position on Gulbis.  The price is definitely right, with both Gulbis and Cilic priced at +11500.
For our primary bet, however, we'll go with Roger Federer.  You simply can't argue with his track record of success at the US Open and with the defending champion out of action it's his tournament to lose.
Bet Roger Federer +245 to win US Open
No Comments