Nasri, van Persie Could Be Fit for Weekend
Added on Dec 02, 2010 by Trent Sillanpaa in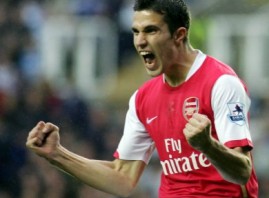 Arsenal manager Arsene Wenger announced that his team should be able to enjoy the services of midfielder Samir Nasri while striker Robin van Persie's health remains in doubt following the club's Carling Cup home win over Wigan Athletic earlier this week. The Gunners face Fulham at the Emirates Stadium on Saturday in a crucial London derby where the home side will look to reestablish its home dominance in Premier League play after recent stumbles versus West Brom and Tottenham.
Nasri suffered a knock on Tuesday during Arsenal's 2-0 quarterfinal victory, hurting his knee after entering the match as a second-half substitute. Meanwhile, van Persie earned his first start since late August in the very same match, but Wenger is likely to be cautious with the Dutchman because he is just now returning from an ankle injury. In the match van Persie played 73 minutes and may not be fully fit for a quick turnaround against Fulham.
In addition to Arsenal's fitness doubts surrounding van Persie and Nasri, the Gunners will again be without Cesc Fabregas, Abou Diaby, and Thomas Vermaelen. Arsenal played without the trio's services last weekend and scored an important bounceback victory after its collapse versus Spurs, defeating Aston Villa 4-2 at Villa Park. Nasri scored in the match.
Arsenal sits third in the Premier League standings, but is tied on points (29) with struggler Chelsea. The Blues host Everton on Saturday while Manchester United – two points clear at the top of the table – are at surprising Blackpool.
No Comments