A Seat at La Liga Table
Added on Nov 22, 2010 by Trent Sillanpaa in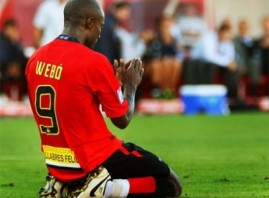 Biggest Rise: Levante (19th to 15th)
Not only did Levante move out of the relegation zone by defeating a team it is likely to battle with all season to stay in La Liga, but it did so emphatically. In beating Racing Santander 3-1, Levante moved from 19th to 15th in the standings while jumping their opponent – who dropped two spots to 16th – in the process. Felipe Caicedo struck twice in the span of three minutes in the first half hour, and Christian Stuani added a third before the break for Levante, which surrendered just a meaningless goal to Medhi Lacen in the 88th minute. Who knows how far this move up the standings means by the end of the season – or by the end of the calendar year – but it means something now, especially if Levante can string some results together on the back of this big victory. As it is, there are six teams within three points of one another at the bottom of the standings.
Biggest Drop: Racing Santander (14th to 16th)
So where does Saturday's dismal result leave Racing? A little worse off than it was before the match, but no worse. The relegation battle certainly won't have the attention that the title clashes between Real and Barcelona will, but more teams will be involved and there will be plenty of drama. More important than dropping a couple spots in the standings is the fact that Racing was in a position to keep a fellow relegation battler in the bottom three. Even a draw would have kept Levante in the relegation zone and left them still sitting on single-digit points heading into the final weekend of November. Racing needs to get results against teams like Levante if it wants to stay up next season.
Most Important Rise: Mallorca (10th to 8th)
There is just so little separating most of the teams in La Liga that any wins seems like a huge deal. And it is a huge deal because everyone – aside from two teams – seems to be neck-and-neck with a handful of opponents who are essentially battling for the same thing, be it a Champions League spot or just to stay out of the relegation zone. Mallorca's win proved to be even bigger than the average La Liga victory because it came on the road against a Champions League-worthy side in dramatic fashion. Just when it looked like Mallorca had blown a chance to take three points after Sevilla's Luis Fabiano tied the score in the 88th minute, Pierre Webo headed in a free kick in the 90th to take all the points for the visitors. Mallorca is now two points out of the top seven and eight points ahead of the relegation zone.
Most Important Drop: Sevilla (5th to 7th)
As always there is a team ruing a loss and the ensuing drop for each team which is celebrating an important victory and a rise in the league table. Sevilla seemed to be sitting pretty in fifth place with Mallorca visiting over the weekend, but it couldn't take advantage of a home test. Had Fabiano's equalizer stood then Sevilla would be tied on points with fifth-place Valencia, which isn't that much of a change. However, a home loss to a team trailing you in the standings is a big no-no in the ultra-competitive La Liga.
No Comments