La Liga Weekend Preview
Added on Nov 26, 2010 by Trent Sillanpaa in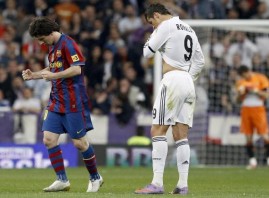 Saturday
Real Zaragoza vs. Villareal: A meeting of teams going in opposite directions, there is no doubt that Villareal should put this away without any problems. A team doesn't sit in last place heading into December unless it is out of its league, and Villareal sits behind just a couple of teams most of us have heard good things about.
Sevilla vs. Getafe: At some point Sevilla will need to take the points it is supposed to take. Last week it was Mallorca who won at Sevilla and now Getafe makes the trip in basically the same position as the surprise winners. Sevilla must win and they will, but only if it doesn't waste time feeling bad about itself for the latest flop.
Atletico Madrid vs. Espanyol: On most weekends this would be the marquee match, but we all know which teams are getting the headlines right now. Still, this is a very important meeting between two teams in the top six. Atletico has the pieces in the attack to really challenge anyone on a given night, but Espanyol has gone about its business and consistently earned points. At home with a chance to jump Espanyol you can expect Atletico to come to play and earn the points.
Sunday
Hercules vs. Levante: There is a crush of teams which will be in a battle to stay out of the relegation fray all season and this is two of them. Hercules has surprised with certain results and its overall standing at this point while Levante is one point and one spot in the standings behind the home side. Despite being tough to knock off at home, Hercules won't likely get better than a draw from this one. Such a result won't be the worst thing for either.
Mallorca vs. Malaga: Last time out Mallorca deservedly won at Sevilla, but results like that only mean as much as the following match or the three points a team gives away in a similar fashion. Mallorca is sure to be riding high after its big win and needs to build of it here.
Racing Santander vs. Deportivo: This one has draw written all over it because Deportivo just isn't as good as it could be and Racing Santander is not the type of team to easily take advantage of such things, even at home.
Sporting Gijon vs. Real Sociedad: Sporting has shown some real flair in its attack, but often lacks that finishing touch. Just two weeks ago it was so close to earning a scoreless home draw versus Real Madrid and now it gets a shot against a very different Real. Sociedad is in 9th place, but really isn't that well off. Sporting will get something from this match, though the visitors need something from it just as much.
Athletic Bilbao vs. Osasuna: Right in the middle of the table is where these two teams are. It has the feel of a match which each will be willing to leave with just a point, though you never really know what's bound to happen with these two.
Valencia vs. Almeria: For Almeria's sake, let's hope it doesn't take the 8-0 loss to Barcelona too hard. After all, it is Barcelona. Valencia has to beat such a lowly team at home and certainly should. Teams just don't turn around and earn points like these after an eight-goal loss.
Monday
Barcelona vs. Real Madrid: This is the big one, as if anyone needed to be told. El Clasico or El Super Clasico or El Super Fantastico Clasico… Call it what you want, it is the perfect match to end the calendar year. The two best teams in the world in one of the legendary rivalries will battle for 90 minutes and feature a ridiculous abundance of talent. A draw would be tough to swallow and Barcelona may still have the psychological edge, despite Jose Mourinho's introduction. Look for goals and the home team to win an epic.
No Comments