Mourinho's Madrid Will Rebound from El Clasico
Added on Nov 30, 2010 by Trent Sillanpaa in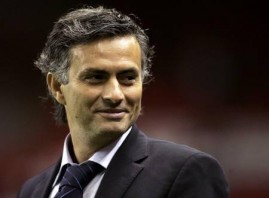 They call it El Clasico for good reason. On Monday evening in Barcelona one team rose to the occasion – no shock it was the home side – while the other was left to respond with physicality that only made the 5-0 score line look even worse. Real Madrid lost its first match of the La Liga season in a match which in some ways did live up to the hype, yet the yeoman work still remains for a side which has a full 25 matches left to make up for one epic blunder of a match.
In the wake of Real's dismal 5-0 showing in Barcelona, manager Jose Mourinho deflected every potential media attack on his side's former cloak of invincibility. This is nothing new for the iconic manager, who has turned the press conference into a form of performance art. When The Special One was asked the obvious question about how his team will deal with the embarrassment of such a lopsided loss to its rival he refuted that Real were embarrassed. His team was merely outplayed by the better team.
While the extremely physical play of Real as the rout wore on certainly showed frustration, it is difficult to question Mourinho's calm response to the loss. He may have been the first to use his special nickname, but the English press took it and ran with it for a reason. This man has a way with words, which is the key to his unquestionable impact on the psyche of the teams he coaches. Even if his players were embarrassed as their deficit grew – and they surely were – Mourinho won't allow them to feel ashamed anymore. If there is one thing everyone knows about Mourinho it is that when he speaks his team listens. And his team – it was the same at Porto, Chelsea, and Inter – believes what he says.
Now, shame be damned, Mourinho's Real has a chance to prove its mettle amid its first bout with turmoil. Until the Barca loss this team had never lost a match under Mourinho, sat atop the La Liga table, and clinched a spot in the Champions League knockout stage with hardly a hint of a hiccup. To add insult to injury, UEFA announced a one-game touchline ban on Mourinho for managing his team. Officially the ban was dealt for Mourinho's role in having two of his players – Xabi Alonso and Sergio Ramos – deliberately waste time in order to purposely earn their second yellow cards in Champions League play at the end of a 4-0 win at Ajax. In earning their second yellow cards the duo will miss Real's meaningless group finale and enter the second round with a clean slate.
Though Mourinho was also fined, along with Alonso and Ramos, he got what he wanted in the long run: a clean slate for the two players. UEFA could only come down so hard on the Portuguese manager considering he merely took advantage of the rules of competition and did so without putting anyone else at risk – both players can afford their fines just as easily. However you look at it, the UEFA suspension and fine have drawn attention to Mourinho and Real. While this seems like bad timing at first glance, the fact that it comes the day after the first defeat of Mourinho's Real tenure could prove to be perfection. It shines the light even brighter on Mourinho, who we all know can handle it, and takes attention away from El Clasico, giving his players just a little more freedom to spend focusing on a tough Valencia team Los Blancos face this weekend.
Say what you will about Mourinho, there is no doubting that this is now Mourinho's Madrid, and over the next six months he'll have his team playing in matches more meaningful than it has played in for years.
2 Comments