Underrated NBA Free Agents
Added on Jul 03, 2013 by Scott in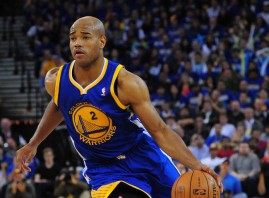 It's no secret that the 2013 NBA free agent list isn't chock full of grade A talent. Once the Dwight Howard recruitment tour reaches a destination, the last of the superstar household names will be off the market. This doesn't mean teams looking to improve the overall depth of their rosters can't find quality players. A closer look at the available guys looking for employment reveals a few potentially hidden gems.
Jarrett Jack (Warriors) – The Warriors are mired in an unfavorable cap situation. They would love to add Howard, but odds are they can't afford the price tag without sacrificing a portion of their up and coming youth. Jack should draw attention from point guard needy teams like Dallas. He's fresh off anther solid season as a backup and spot starter, and has the type of substance over style game that often goes unnoticed.
Anthony Morrow (Mavericks) – Based on his awful 2012-13 campaign, Morrow probably won't generate a lot interest. However, this past season should be the exception, not the rule. In his first four seasons, Morrow was a consistent three-point sniper, shooting at least 37% from beyond the arc. For whatever reason, he struggled to find his shot and found himself planted on the bench in Dallas. If he can snap the slump, he will be a valuable asset to teams looking for long range help.
Will Bynum (Pistons) – Bynum is another unheralded backup point guard who can provide quality minutes behind an established starter. He's also due for a change of scenery after four disastrous seasons in the Motor City, and can be had for a relatively low cap figure. He's far from flashy, but in the right system, he could prove to be a shrewd signing.
Matt Barnes (Clippers) – Barnes is coming off a career season, averaging 10.3 points per game. He's a veteran with playoff experience who can shoot, which is exactly what teams hoping to contend want on their bench. His attitude can be problematic at times, but he won't back down in the spotlight and isn't afraid to launch it from beyond the arc.
Nate Robinson (Bulls) – What you see is what you get with Robinson. He's an undersized shoot first point guard who can be a hindrance when he's not hitting. That said, he knows how to score and plays with a decent sized chip on his shoulder. He'll never be a full-time starter, but teams lacking an energizer bunny on their bench could do a lot worse. 
No Comments