Samuel Eto'o's Fun Day In Italian Soccer
Added on Oct 17, 2010 by Jack Thurman in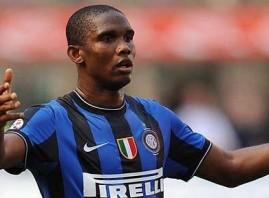 I've spent a lot of time in Europe, and nothing pisses me off more than stereotypes about the United States and Americans.  For the most part, people are cool wherever you go as long as you're cool to them but there's also plenty of people on 'The Continent' that consider all Americans stupid, backwards, ill mannered, gun totin' racists.  The reality is that every country in the world has its good and bad elements and in that respect Europe is no different than America.
On the other hand, I've been to plenty of sporting events in the United States and have never seen one halted so the arena security can get a handle on organized racist chants from the spectators.  That happened just today in Italy:
Cagliari's Serie A home game with Inter Milan was suspended for approximately three minutes on Sunday because of racist chanting apparently aimed at Samuel Eto'o.

In a separate incident, three Lazio fans were arrested before their rivals Roma played Genoa in the capital after police searches found a machete, knives and other weapons.

In Cagliari, three minutes had been played and the score was 0-0 when the referee approached the benches and a public announcement was made asking fans to stop the offensive songs.
We won't even get into the 'machete and knives' thing.  Actually we will, but because there's something funny about it:
In Rome, three men – reportedly Lazio fans and aged 20, 23 and 27 – were arrested for possession of dangerous weapon near the Olympic Stadium after an officer spotted a machete under a seat, ANSA news agency reported Sunday.

Following a search, police also found baseball bats, knives, sticks, two clubs, a tennis racket and a ski mask.
Emphasis added–the idea that a tennis racket is a dangerous weapon is very amusing to me and somewhere Jim Cornette has been vindicated.  The whole experience teaches us a valuable lesson–not everything in Italy looks like a Vespa ad and if guns are outlawed thugs will roam the street swinging tennis rackets.
For what its worth, Cagliari President Massimo Cellino (it seems like the president of every Italian sports team is named 'Massimo') denied that any racists chants were heard from his supporters:
"I didn't hear any such chants. I absolutely did not hear them".

"At Cagliari we have never been racist. I think there must have been a mistake."
Don't worry about Eto'o–he got his 'revenge' in the best way possible:
No Comments