A Seat at the Premier League Table
Added on Nov 22, 2010 by Trent Sillanpaa in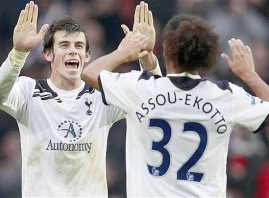 Biggest Rise: Birmingham City (18th to 15th)
For a relegation struggler, beating the league's top team is like a fantasy. Not only is the three points important for Birmingham City's aspirations in this case, it can also do wonders for a team's psyche. The feel-good attitude floating around the Birmingham City team surely has to do with the knowledge that it has a trump card on the five teams now sitting below it in the standings: it has taken three points from a team which their counterparts almost surely won't get from the same fixture. Sometimes it is better to be lucky than good, and winning a match against Chelsea despite being outshot 32-3 involved some fortune. However, three points is three points, and City took a huge step toward another season in the Premier League.
Biggest Drop: Aston Villa (9th to 13th)
Two weeks ago Aston Villa seemed to overcome its slow start to the season with back-to-back result which allowed it to move five spots into the top half of the table. Two Morton Gamst Pedersen strikes later and it appears that Villa may be in for a battle the rest of the season if it wants to stay out of the relegation fracas. Injuries have played a role without a doubt, but there is the young talent at Villa to be in the top half of the standings rather than – gulp – three points out of the bottom three. Luckily for the Villans they are also three points out of the top seven, but the lack of consistency is alarming.
Most Important Rise: Tottenham (7th to 6th)
Everyone knows why Tottenham's rise to 6th in the standings is a big deal, and it has little to do with European placement or switching places in the table with Sunderland. Spurs won at hated rival Arsenal for the first time since 1993 and did so with a stunning second-half turnaround. Not surprisingly it was young sensation Gareth Bale who started the recovery from a 2-0 halftime deficit and Rafael Van der Vaart who tied the score. Younes Kaboul flicked in the winner in the final minutes to stun Gunners fans and post a win which could signal the start of a new era in the North London derby. Spurs have a bright future and are positioned well for a top four finish.
Most Important Drop: Newcastle United (8th to 10th)
The bloom is off the rose now. Newcastle enjoyed a surprising start to the season, sitting in 5th place as recently as two weeks ago. Now, after a pivotal 5-1 loss at fellow surprise side Bolton, Newcastle sits in 10th and is just four points removed from the relegation zone. With Kevin Nolan and Andy Carroll up front there is no reason for this team to falter badly enough to be relegated, but the idea that it would be securing a spot in Europe in the spring has proven to be pure fantasy.
No Comments