A Seat at the Premier League Table: Match 15
Added on Nov 29, 2010 by Trent Sillanpaa in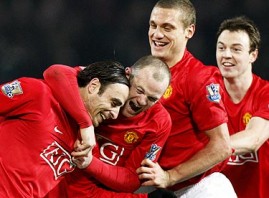 Biggest Rise: West Brom, 16th to 12th
Back and forth goes West Brom, up to 12th, back to 16th, and up to 12th once again. For the second time in three weeks, West Brom picked up an impressive road victory in a difficult venue, this time hammering Everton 4-1 in a match it never trailed. Goals from Paul Scharner and Chris Brunt opened an early lead which held and has the Baggies level on points with Blackpool, Liverpool, and Newcastle, all of which are ahead of them in the standings. If West Brom can string some results together it will be sitting pretty by the end of the calendar year.
Biggest Drop: Everton, 14th to 16th
The Toffees continue falling and are far from safety. A 4-1 home loss to a fellow struggler won't warm any hearts on the blue side of Liverpool and things aren't certain to get better anytime soon. Everton's lone goal in its latest embarrassment came from Tim Cahill, which is far from surprising. The biggest problem surrounding Cahill's performance regards his upcoming absence from the Premier League when he takes off to represent Australia at the Asian Cup. There isn't enough separating this team from Fulham and Wigan directly beneath it.
Most Important Rise: Manchester United, 2nd to 1st
All those early season draws are looking a lot better now that United is healthy again and back atop the Premier League table. Wayne Rooney's impact can't be understated and Dimitar Berbatov's resurgent goal scoring touch makes United a completely different team. Suddenly the Red Devils are playing like the class of the league, scoring goals left and right. A win at Blackpool will set up a scintillating clash with Arsenal in two weeks.
Most Important Drop: Chelsea, 1st to 2nd
Chelsea's poor form finally caught up to it in the standings, dropping the Blues into second and even on points with third place Arsenal. Four points from five matches finally did some damage after a 1-1 draw at Newcastle, though it also showed just how much good work Chelsea did early in the season. Chelsea's recent collapse has cost it first place, but not a chance at the title. However, the Blues need to start winning right now to keep up with United and Arsenal.
No Comments