Is Coentrao Destined for Move to England?
Added on Nov 24, 2010 by Trent Sillanpaa in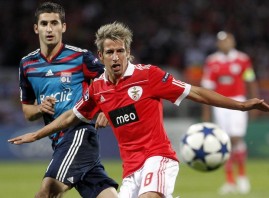 Five months after making his international breakthrough with a starring role for Portugal at the World Cup, 22-year-old Benfica left back Fabio Coentrao appears to be at the center of a transfer battle which could reach a fever pitch with the January transfer window just around the corner. Depending on which newspaper you read, Coentrao is on the brink of a move to Chelsea, Manchester United, Real Madrid, and Manchester City, but with a lofty price tag and feet firmly planted for his Lisbon club, is the multi-skilled sensation really on the midseason market?
While most of the rumors surrounding Coentrao's impending move – it will happen even if not until next summer – are pure conjecture at the moment, the speedy left-footer's ability is not under question. Having already played a standout role for Portugal at the youth level, Coentrao earned his first senior call-up a year ago as he was settling in at Benfica and ran with it.
Showing blistering pace in transition and a knack for dispossessing opponents, Coentrao has a skill set which has left clubs across Europe salivating since becoming one of the true breakout stars of last summer's World Cup in South Africa. If one needed any more reason to believe in the youngster's potential they need only watch the brace Coentrao scored in the Champions League earlier this month against Lyon when he showed an uncanny coolness in finishing off a pair of half-chances.
It is almost impossible to say which club has the inside track to gaining Coentrao's services, though finances will be paramount. The release fee in Coentrao's Benfica contract is believed to be around £26 million and has been cited as high as £30 million by some sources, which obviously leaves only the richest clubs in contention for his services. Manchester City has the money, but lacks the connections – not to mention credibility – of clubs such as United, Chelsea, and Real.
In fact, the ties between Coentrao and those clubs are worth considering. Each of the three features Coentrao's countrymen, which would ease the defender's acclimation into English or Spanish society, while his agent also represents Cristiano Ronaldo and Jose Mourinho. Sources claim that while Coentrao is committed to Benfica through the season, his ideal long-term destination is Real Madrid.
Benfica is believed to be willing to hold out for the full value of Coentrao's release fee and will be smart to do so. With so many of the top suitors calling it is no wonder the club reportedly turned down an £18 million offer from Chelsea last summer.
No Comments