A Seat at the Serie A Table: Match 14
Added on Nov 29, 2010 by Trent Sillanpaa in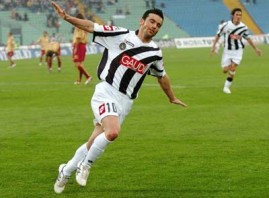 Biggest Rise: Udinese, 11th to 9th
Udinese didn't just make a jump up the table, it made a big leap in its own performance as well. Welcoming a Napoli side sitting third in the table, the home side stormed out to a 3-0 lead thanks to an Antonio Di Natale hat trick and a key penalty save by goalkeeper Samir Handanovic which prevented Napoli from polling within a goal in the 65th minute. With the victory Udinese holds its ground above the heap at the bottom half of the table.  
Biggest Drop: Lecce, 17th to 19th
In reality this isn't the worst situation Lecce could be in after a 3-2 loss at Cagliari over the weekend. In spite of the loss – as well as the drop into the relegation zone – Lecce is even on points with Brescia and Cesena, which are directly above it in the table. There will be a lot of movement in the bottom seven or so, and Lecce showed plenty of life in a fight back which cut a 3-0 deficit to just one goal with 10 minutes remaining.
Most Important Rise: Inter, 6th to 5th
The last thing anyone in Serie A wanted was for Inter to shake off its recent troubles and become a factor again. The talent is there for the other Milan side to get back in the battle for the title, though a lot of work remains. The Nerazzurri showed a lot by not panicking when they fell behind early on a Hernan Crespo goal and scoring three times in five minutes to take control of the match. Dejan Stankovic finished a hat trick and Thiago Motta added a goal after halftime to put the match away and signal a return to competency for Inter heading into the holidays.
Most Important Drop: Napoli, 3rd to 4th
Napoli has held firm in the top three as of late, but has always had capable teams on its heels. Long story short, Napoli needs to keep the pressure off itself by getting results against the teams which haven't been consistently good enough to stay in the top half of the table. It couldn't do that in a match at Udinese and is another bad result away from dropping all the way to 8th with the wrong results this weekend. Napoli just gave itself more work to do.
No Comments