Serie A Players Set Strike for Dec. 11 & 12 Matches
Added on Nov 30, 2010 by Trent Sillanpaa in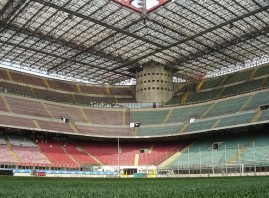 Three months after postponing a strike, players in the Serie A have announced they will finally go on with the planned protest this month when the Italian league's 16th round of matches are scheduled to be played on Saturday, Dec. 11 and Sunday, Dec. 12. The strike centers on the collective bargaining agreement between the players' union and the Lega Calcio with the biggest bone of contention supposedly regarding team-mandated player transfers.
The primary complaint centering on transfer quarrels between players and their Serie A bosses from the players' perspective is that they have little protection when their team wants to send them on a transfer as they enter into the final year of a contract. As is the case if professional football, players in top leagues rarely have complete freedom to choose a new team because they are sold from one team to another before their contract runs out. Of course these transfers often require that the transferring player sign another multi-year contract with their new team in order for the transfer to be made. Serie A players feel they lack protection under the current agreement between their union and the Lega Calcio, which leads to undesirable transfers and contracts which they feel forced into.
At the start of the season the players' union postponed a strike scheduled for Sept. 25 and 26 when it reached an agreement with Lega Calcio to enter into negotiations. With little headway being made to come to new terms, the players' union is pulling its trump card by refusing to take the field for matches on the second weekend of December.  
Whether or not the players' union strike will affect ongoing negotiations will be determined in time, though going through with the strike will surely send a message about the union's willingness to take a stand. The 16th round of matches has yet to be rescheduled, though the matches are sure to remain on the 2010-11 season schedules.
Serie A Round 16 Matches
Saturday, Dec. 11
Palermo vs. Parma
Udinese vs. Fiorentina
Genoa vs. Napoli
Sunday, Dec. 12
Bologna vs. AC Milan
AS Roma vs. Bari
Brescia vs. Sampdoria
Cagliari vs. Catania
Lecce vs. Chievo Verona
Juventus vs. Lazio
No Comments