Serie A Weekend Preview
Added on Dec 03, 2010 by Trent Sillanpaa in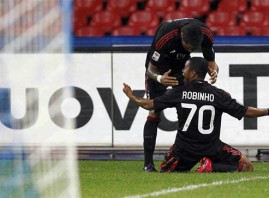 Friday
Lazio (Pick) 3-1Inter Milan: A 74th-minute goal from Goran Pandev got Inter back into the match, but Giuseppe Biava and Mauro Zarate won it for Lazio. Hernanes tallied the final goal just before the end. Inter now drops further out of the title race while Lazio draws even on points with Milan for the moment.
Saturday
Chievo Verona (Pick) vs. AS Roma: Chievo defeated Inter at home two weeks ago, but Roma isn't floundering like Inter was at the time. Roma shouldn't do worse than a draw, though Chievo is a solid defensive side.
AC Milan (-1 ½) vs. Brescia: Two goals in this league is a lot, but Milan are at home to a team still high off vaulting all the way to 17th in the table. Milan should protect the San Siro turf by winning and covering.
Sunday
Cesena (- ½) vs. Bologna: Cesena did make some progress last week while Bologna was postponed. Whether or not a week off was good or bad for the visitors will show early rather than late. This is likely a draw.
Fiorentina (- ½) vs. Cagliari: Cagliari jumped Fiorentina in the standings last weekend, but at some point Fiorentina must show its mettle on home soil. Look for it to take this one.
Lecce (+ ½) vs. Genoa: The visitors in this one have enjoyed a quietly solid campaign by earning points from matches like these. Still, Lecce has been good at home and is getting points, which makes it a solid bet.
Parma (Pick) vs. Udinese: Parma has struggled to win at home despite only one loss while Udinese has been poor on the road. Something has to give and Parma has lost just one of seven in front of its own supporters.
Sampdoria (- ½) vs. Bari: It's a bit surprising Sampdoria, sitting 8th in the table, is only a slight favorite to bottom dwellers Bari. While Sampdoria has drawn four at home, Bari is especially terrible on the road.
Catania (+ ½) vs. Juventus: Another spread which surprises is this one. Juventus has proven to be the highest scoring team so far while Catania has allowed three goals at home without a loss. Catania is an intriguing pick because of this, but Juventus has bounced back from each Europa League setback in domestic play.
Monday
Napoli (- ½) vs. Palermo: In the best match of the actual weekend there will be goals. Palermo has the firepower to score away from home while Napoli certainly needs a win after dropping to 4th last weekend. Something says Palermo has more going for it right now.
No Comments