Europa League Preview: Matchday 5
Added on Nov 24, 2010 by Trent Sillanpaa in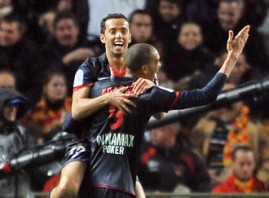 All matches will be played Thursday, Dec. 2
(Home team listed first; team points in parentheses)
Group A
Manchester City (7) vs. Salzburg (2): Look for Manchester City to make quick work of the Austrian side in a must-win match before closing out group play at Juventus.
Lech Poznan (7) vs. Juventus (4): Juventus is too good to be in such a poor position, especially without any losses. Maybe this is just the case of a team not being invested in a competition or maybe the team, which is playing well domestically, is just finding itself. Either way, it needs a win here before a showdown with Man City in Turin.
Group B
Atletico Madrid (7) vs. Aris (4): Atletico has too much firepower for the Greek upstart, which stunned the Spanish side 1-0 to begin group play. Aris will see a different Atletico this time around.
Rosenborg (3) vs. Bayer Leverkusen (8): A draw will likely be enough to send Leverkusen through, though it is far from a given. Still, it is difficult to see Rosenborg completely turning around the 4-0 loss in their first meeting and getting more than a point.
Group C
Sporting Portugal (9) vs. Lille (5): Things must have been too easy for Sporting because it forgot to show in a 3-1 loss at Gent last time out. Now it faces a real challenge from Lille, who could very well take a point or three. Sporting has 10 goals in two home matches, though.
Gent (4) vs. Levski Sofia (4): Gent managed points versus better sides in its previous home dates, so it will likely do the same against a Levski side it can overtake with a win.
Group D
Villareal (6) vs. Dinamo Zagreb (7): Villareal is better than it has fared thus far, and has more goals in it than it has shown. Trust the Spanish side to win on home soil and shake up the group.
PAOK (7) vs. Club Brugge (2): There won't be many goals, which means things aren't so straightforward for the Greeks. Just don't expect Brugge to actually win the match, though.
Group E
Sheriff (3) vs. AZ Alkmaar (3): You would never expect an Eredivisie side to be level on points with Moldovan club Sheriff, but just take a look. Alkmaar should secure three points, but it never should've been in such a lowly position so you just never know.
BATE Borisov (10) vs. Dynamo Kiev (7): BATE has been the class of the group and earned a 2-2 draw in Kiev. However, it has secured a spot in the next round while Dynamo needs the points.
Group F
CSKA Moscow (12) vs. Lausanne (1): When a team is on one point and out of contention they probably don't want to make the trip to Moscow in November. CSKA gets all three points here.
Palermo (3) vs. Sparta Prague (7): Palermo hasn't shown any kind of defensive strength one might expect from the Serie A representative, which means it will need goals in this one. The lack of offensive punch will prevent Palermo from getting the three points it has to have.
Group G
Zenit St. Petersburg (12) vs. Anderlecht (4): Zenit has the group wrapped up, but has played well enough to expect another three points. However, Anderlecht is a resurgent side after losing its first two matches and might be pleased with a point.
Hajduk Split (3) vs. AEK Athens (4): AEK is the prettier side, but is in no position to expect to take anything from this trip to Croatia. Hajduk Split will make things very difficult on the team from Athens and goals from each end of the pitch are likely.
Group H
Young Boys (6) vs. Stuttgart (12): Stuttgart has secured a spot in the next round and Young Boys will be playing for a big three points. Young Boys will get a point if they don't get too ambitious and open up for Stuttgart to strike.
Odense (3) vs. Getafe (3): Getafe has struggled to find the back of the net, scoring just twice so far. And Odense will be tougher to score against on home soil, one would think.
Group I
Metalist Kharkiv (7) vs. Debrecen (0): Metalist is playing for advancement while Debrecen is playing for pride. That basically says it all right there.
Sampdoria (5) vs. PSV Eindhoven (10): PSV still has work to do, but managed just a 1-1 draw versus Sampdoria earlier. Meanwhile, the Italian team has been stingy when it comes to allowing goals and is right in the thick of the group race.
Group J
Borussia Dortmund (5) vs. Karpaty Lviv (0): Dortmund won't fail to take three points in a match it needs to win against the pointless Ukraine side.
Paris Saint-Germain (8) vs. Sevilla (9): This looks more like a Champions League match on paper. Both teams have allowed just one goal and will want to keep their noses in front of Dortmund. In a toss-up such as this the home side must be favored to find that extra little bit of inspiration.
Group K
Utrecht (3) vs. Napoli (3): A scoreless draw provided a slow start for each team and it would be far from surprising to see another goalless affair the second time around.
Steaua Bucharest (5) vs. Liverpool (8): The Reds have fared better in the Europa League than the Premier League, keeping with recent tradition. This time they are without Steven Gerrard, though, and face a tough team with a chance to take a step toward the next round.
Group L
CSKA Sofia (3) vs. Besiktas (7): Sofia hasn't been bad, but hasn't scored enough goals either. Besiktas has been solid and would likely secure advancement with a victory.
Rapid Wien (3) vs. Porto (10): Porto is the class of the group and will go far in the competition. Despite having a spot in the next round wrapped up, the Portuguese side will win again.
No Comments