Europa League: Thursday Recap
Added on Dec 02, 2010 by Trent Sillanpaa in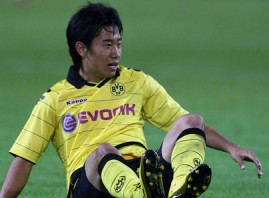 Group D
Villareal 3-0 Dinamo Zagreb: Villareal kept it chances at advancing alive and even managed to overtake two teams for first place heading into its final group match. Guiseppe Rossi scored twice with a Marco Gaston Ruben score in the middle. The Spanish side now needs just a draw to guarantee advancement while Dinamo must win its final match against PAOK.
PAOK 1-1 Club Brugge: PAOK blew a golden opportunity to wrap up a spot in the next round at home versus the group minnow. Stefan Scepovic stunned the Greek side with an 89th-minute goal for the spoilers. PAOK needs a draw at Dinamo to advance.
Standings: 1. Villareal (9), 2. PAOK (8), 3. Dinamo Zagreb (7), 4. Club Brugge (3)
Group E
FC Sheriff 1-1 AZ Alkmaar: In a match whose meaning was rendered moot bu the other result in the group, Brett Holman opened scoring in the 17th for Alkmaar. Flourent Rouamba equalized after halftime for Sheriff.
BATE Borisov 1-4 Dynamo Kiev: Dynamo entered needing a win to advance and stormed to victory behind three goals in the opening 50 minutes. BATE had already clinched a spot in round two and is now joined by the victors.
Standings:1. Dynamo Kiev (10), 2. BATE Borizov (10), 3. AZ Alkmaar (4), 4. FC Sheriff (4)
Group F
Palermo 2-2 Sparta Prague: Sparta Prague got the point it needed in Italy to secure second place in the group and send Palermo from the competition. Jiri Kladrubsky tied the score at 1-1 for Sparta in the 51st and Juraj Kucka equalized a second time in the 63rd to steal the point.
CSKA Moscow 5-2 Lausanne: CSKA kept its perfect record intact with a blistering performance over previously outsted Lausanne. The Russian side struck three times before the half and had five different scorers.
Standings: 1. CSKA Moscow (15), 2. Sparta Prague (8), 3. Palermo (4), 4. Lausanne (1)
Group J
Borussia Dortmund 3-0 Karpaty Lviv: Dortmund kept its hopes alive with a simple win over pointless Karpaty. Shinji Kagawa opened scoring in the 5th before the home side struck twice after the half. Dortmund must win at Sevilla to advance.
Paris Saint-Germain 4-2 Sevilla: Sevilla fought back from a two-goal deficit in the opening half, but its hard work was undone just before and after the break. Nene put PSG ahead in the final minute of the first half before Guillaume Hoarau struck in the 47th. The Parisian advance with the win while Sevilla needs a draw versus Borussia Dortmund.
Standings:1. Paris Saint-Germain (11), 2. Sevilla (9), 3. Borussia Dortmund (8), 4. Karpaty Lviv (0)
Group K
Utrecht 3-3 Napoli: Edinson Cavani scored a hat trick to rescue Napoli and keep its hopes alive in a missed opportunity for both teams. Utrecht took a 3-1 lead into the half behind a Ricky Wolfswinkel brace. Napoli can jump Steaua with a win in their finale.
Steaua Bucharest 1-1 Liverpool: Milan Jovanovic put the Reds in front after 19 minutes as Liverpool got the point it needed despite a Eder Bonfim header which was helped in by goalkeeper Pepe Reina. Liverpool advances while Steaua needs a draw in its last match.
Standings: 1. Liverpool (9), 2. Steaua Bucharest (6), 3. Napoli (4), 4. Utrecht (4)
Group L
CSKA Sofia 1-2 Besiktas:  Besiktas got more than it needed in defeating Sofia on the road. Filip Holosko put Besiktas ahead 2-0 in the second half with the deciding goal. Sofia is out of the competition.
Rapid Wien 1-3 FC Porto: Falcao netted a treble in the second half to bring Porto back from a goal down on a snowy pitch. Porto had already clinched advancement, but Rapid Wien entered the match with a slight hope for moving on, though it is now out of contention.
Standings:1. FC Porto (13), 2. Besiktas (10), 3. Rapid Wien (3), 4. CSKA Sofia (3)
No Comments