Romeo Crennel Says Chiefs Would Consider Peyton Manning
Added on Feb 26, 2012 by Jack Thurman in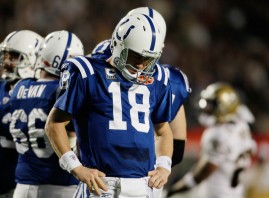 Peyton Manning has yet to officially leave Indianapolis, but his eventual destination should that occur has become a hot topic. Kansas City Chiefs' head coach Romeo Crennel threw his hat in the ring of suitors this weekend when he said that his team would consider Manning should he become available.
Officially, Crennel isn't supposed to have a position on Manning since for the time being he's still the property of the Indianapolis Colts. Still, he spoke in general terms about his interest in the quarterback:
"I'm not supposed to talk about anybody else's players, and he's still a player with Indianapolis. But with a talent like that, I would be crazy not to consider it if he were available. I'll leave it at that."

New Miami Dolphins' coach Joe Philbin never mentioned Manning by name but still managed to express his team's interest:
"We're looking for a great decision maker. We're looking for a leader. We're looking for an accurate passer. We're looking for a guy that has excellent game management skills, excellent decision maker, a guy that has pocket presence and awareness, the leadership skills. Obviously, the stronger the arm, the more velocity, the better, but we're looking for a guy that can manage a team, lead a team, make good decisions in critical times and make big plays when games are on the line."

New York Jets' coach Rex Ryan tried to dodge the question:
"Are you talking about my son (Payton), or some other Peyton? I think first off, Peyton is under contract to a different team, so I can't talk about him specifically. But with our organization, we will look at everybody. There is a list of 10 free agent quarterbacks that I've looked at. There's the draft guys I've looked at. In my opinion, we have the best corner in football, in the history of football, along with Deion Sanders and we are still looking at a million corners."

The Colts have yet to officially make a move concerning Manning but the writing is on the wall. The team has made abundantly clear that they'll use their #1 draft pick to chose their quarterback of the future, almost certainly Stanford's Andrew Luck. Manning is due a $28 million option payment on March 8 or he becomes an unrestricted free agent.
No Comments