A Seat at the Serie A Table
Added on Nov 22, 2010 by Trent Sillanpaa in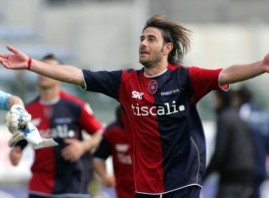 Biggest Rise: Catania (13th to 10th)
Rather than slumping to a home draw with last place Bari, Catania used a Christian Terlizzi goal in the 82nd minute to sneak out a 1-0 victory. This is not an impressive result at face value, but when you look deeper to see that the lone goal came late and mere minutes after Maxi Lopez was sent off for his second yellow card in the 78th minute it is a more admirable result. Bari is a defensive side which was hoping for a draw away from home, and Catania itself is just trying to distance itself from the relegation zone. More important than jumping two teams in the standings is Catania increasing its cushion between itself and the bottom three from three points to six.
Biggest Drop: Genoa (9th to 12th)
This really isn't too big of a deal for Genoa. It made real strides a week ago when it took full points from two matches before losing 2-0 to a Juventus side which has played well yet was in dire need of a victory after consecutive draws. The only real downer from the weekend – rather than the drop or the result itself – is that the loss involved a lot of bad luck. Eduardo was saddled with an own goal for a shot which he could only deflect off the post and ended up bouncing into the goal off his own frame after it smacked off teammate Dario Dainelli in the 18th minute. Milos Krasic scored five minutes later for a 2-0 Juve lead, but the match didn't end until Genoa twice hit the post and had a Luca Toni goal disallowed. A fluky loss to a top team at home and a three spot drop in the standings really isn't the worst week a team could have in November.
Most Important Rise: Cagliari (17th to 15th)
There weren't any sweeping changes in the Serie A standings, but Cagliari's jump from 17th to 15th was about as impactful a move as any side made over the weekend. Cagliari didn't take advantage of its two matches a week earlier when it lost twice, but did what any relegation-fearing team has to do when it defeated the bottom three's Brescia 2-1 on Sunday. Each team was on 11 points entering the match and Cagliari had a three point cushion from the relegation zone after 90 minutes. Brescia led 1-0 in front of its home fans thanks to a 20th-minute penalty kick, but Alessandro Matri equalized in the 63rd and Daniele Conti netted the winner three minutes later on a free kick. It will be difficult for Cagliari to get a more important three points all season long.
Most Important Drop: Inter Milan (5th to 6th)
Oops! Inter is faltering badly, as everyone already knows. The biggest problem now is that it doesn't seem to believe things are all that bad. If the team was cognizant of the fact that its season is slipping away it would have found a way to win at Chievo, which is far from a superpower. It has to be equally disconcerting to Inter fans that another three points were given away immediately after manager Rafa Benitez' job had to be defended by the club president. And if another loss and coaching issues weren't enough, Inter struck the terrible treble when the superlative Samuel Eto'o was caught on video – though not the referee – headbutting an opponent.
No Comments