Inter Manager Rafa Benitez Gets Vote of Confidence
Added on Nov 17, 2010 by Trent Sillanpaa in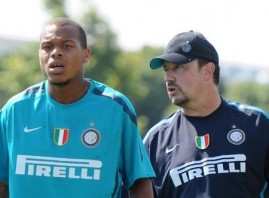 Manager of a struggling Inter Milan side, Rafael Benitez, was given a vote of confidence by team president Massimo Moratti on Wednesday, suppressing the growing rumors of a potential coaching change for the Serie A side.
Inter Milan lost 1-0 to city rival AC Milan on Sunday to fall a full six points behind the victors in the Serie A table. AC Milan now tops to league standings while Inter holds the fifth spot. The struggling Nerazzurri have secured just two points from its last three Serie A matches and six points from five matches.
According to the team's official web site, Moratti told reporters, "I believe that is an invention of you journalists," when queried about Benitez' weakening hold of his managerial position with the club. "I read it on the papers. There is no kind of traumatizing decision, in any way whatsoever."
"The project we chose goes on, and there is total faith in Benitez, as I already said the other day. This doesn't deny the fact that I am annoyed after a game like the one on Sunday, but it doesn't change the club plans in any way whatsoever."
While it never a good sign when the team president must dispel rumors of an imminent managerial change, this does point to the idiocy of making such a move at this point. Benitez is a proven manager who has won top honors at big clubs and is just months into his role at Inter. A six point gap between the defending Champions League winners and rival AC Milan only seems bigger because it took a derby loss for a three point gap to be doubled on Sunday, adding gravity to a common situation.
One area of true worry for Inter, as well as Benitez, is the manager's record of performing significantly better in tournament play than in domestic leagues. Benitez led Liverpool to Champions League and FA Cup trophies, yet struggled mightily to keep the Reds in contention for the Premier League title. Will Inter face the same struggles under Benitez? Time will tell and Benitez will apparently get that time.
Inter face Chievo Verona on Sunday and one would do well to keep an eye on the Nerazzurri response to Benitez drama, if there is drama at all outside of the newspapers.
No Comments