Serie A Weekend Picks Against the Spread
Added on Nov 19, 2010 by Trent Sillanpaa in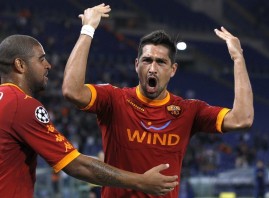 Best Favorite Pick: Inter Milan (-1/2) at Chievo Verona, Sunday
Things haven't gone so well over the past couple of weeks at Inter between a draw at Lecce, a home loss to hated rival AC Milan, and rumors running wild regarding Rafael Benitez' imminent – but not really – departure. Some would shy away from the Nerazzurri at this point, but any win will cover the spread and Chievo Verona has managed just four goals in six home matches.
Best Underdog Pick: Cagliari (+1/2) at Brescia, Sunday
Bottom dwellers unite in this clash, which means it probably should be a pick 'em. A draw is likely here and that works if you take the underdogs Cagliari. In fact, Cagliari has fared relatively well away from home, earning four draws to two losses while surrendering 11 goals total in Serie A play. Look for a draw which would suit Cagliari just fine.
Large Spread Pick: Catania (-1) vs. Bari, Sunday
We are talking Serie A here, so naturally there isn't a spread all weekend greater than one goal. That said, the Bari defense has bled goals so far while struggling mightily to find the net itself. There is a reason it is alone in last place after all. Catania hasn't been too stellar either, but has been a true success story by comparison. If Catania can get ahead in the first hour it will likely add to it.
Small Spread Pick: Juventus (Pick) at Genoa, Sunday
Juventus has not lost a Serie A match since September 23, yet it has only won half of those eight matches. Still, Juve aren't giving anything here and have been solid on defense. The team from Turin needs to find goals more consistently, but one goal could, and probably should, be enough for three points in this one. Genoa should really be a slight underdog in this one.
Match of the Week Pick: AS Roma (-1/2) vs. Udinese, Saturday
This one gets the nod as the match of the week by slightly edging out the Juventus-Genoa clash. Both matches feature teams from the top half of the table, but there is less separating these two teams which reside in 6th and 8th place, respectively. This could go either way, but you have to like Roma at home when any win will do.
Other matches (spreads, not picks):
AC Milan (-1) vs. Fiorentina, Saturday
Cesena (+1/2) vs. Palermo, Sunday
Lecce (Pick) vs. Sampdoria, Sunday
Parma (Pick) vs. Lazio, Sunday
Napoli (-1) vs. Bologna, Sunday
No Comments