Serie A Weekend Preview
Added on Nov 26, 2010 by Trent Sillanpaa in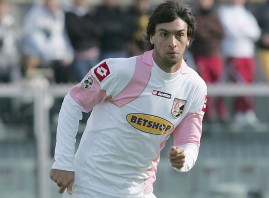 Saturday
Sampdoria vs. AC Milan: Milan snuck out three points last weekend and has another road test in Sampdoria. This will likely be a tight encounter without many goals, but if it comes down to one brilliant play you can guess which team has the advantage.
Juventus vs. Fiorentina: Juventus is among the hottest sides in Serie A, though it has struggled to avoid draws more often than it'd like. Fiorentina put up a fight against Milan, but will likely suffer the same fate with a well-fought loss.
Sunday
Inter vs. Parma: Things were bad for Inter after losing to Milan, and then came the loss at Chievo (and a Samuel Eto'o headbutt). Where does that leave Nerazzurri? In a must-win position, that's where. Inter must find a way to put three points up against Parma, which will certainly hope for a point as it tries to stay out of the relegation fray.
Bari vs. Cesena: The bottom two teams in the Serie A table meet with a chance to move up. Bari is the only team stuck on single-digit points while Cesena could move out of the bottom three with a win. As luck usually shakes out, odds are pretty good this will end in a draw and leave both sides struggling for air.
Bologna vs. Chievo: As poor as Inter has been, it was a big win for Chievo when the two meet last weekend. It'll be a stiffer test for the Verona side away from home, but it should expect to take something from this test with struggler Bologna.
Brescia vs. Genoa: Brescia is toiling in the bottom three, but there really isn't much separating much of the bottom half of the table. Genoa has done enough to be in a pretty good position finishing out the calendar year, which will only be strengthened with this win.
Cagliari vs. Lecce: This is very much a six-pointer with relegation implications between the 15th (Cagliari) and 17th (Lecce) teams. Cagliari defeated Brescia to move a little further from the bottom three and could make a big move by further condemning Lecce. Cagliari has been good enough defensively to take all three points from a Lecce side which has Serie A's worst goal differential (-15).
Lazio vs. Catania: If Lazio wants to remain in the fight with Milan for top spot it needs to win every time it plays its home turf. Catania is one of the many teams one bad stretch from a quick fall, so it can't avoid to let what happens in Lazio – a loss – carry over too much.
Udinese vs. Napoli: Like Lazio-Catania, this features two sides separated by eight spots in the standings, but this time it's the less favored side at home. Napoli has been good, but has the feel of a team just destined to be overtaken by Juventus and Roma before much longer. It needs three points here, but won't get it.
Palermo vs. Roma: This is the match of the week without a doubt. Roma sits 5th in the table while Palermo is 7th just two points back. Neither team has been consistent enough to get rolling, though Roma has shown enough to hint at doing so. And Palermo has the feel of a team playing more for the 7th spot it currently holds than for a top four finish, like Roma. These two will share the spoils from this one.
No Comments